SPOTLIGHT on 2012 Winner of Community Member Award:
Minister Luader Smith
The psychological well being of the Dutchess County community has been violated by thousands of incidents of domestic violence that have had long lasting and far reaching negative impacts ranging from emotional trauma to death. Recognizing that no community can be psychologically healthy if its members are not safe in their own homes and starting with nothing except a vision and a will to succeed, Lauder gained community support, created public and private partnerships, collaborated with law enforcement and municipal agencies, raised funding, located a site and worked to meet all of the requirements to gain NYS licensure for a residential domestic violence shelter. The result of her years of work, Hudson Valley House of Hope opened in 2008. The House of Hope provides a safe haven for adult and child victims of domestic violence and it sets them, through its innovative Aftercare Program, that includes tutoring and job training, on the road to recovery. www.hudsonvalleyhouseofhope.org
SPOTLIGHT on 2012 Winner of Single Organization Award:
Hudson Valley Collaborative Divorce and Dispute Resolution Association
Divorce is a uniquely vulnerable time for a family. The Hudson Valley Collaborative Divorce and Dispute Resolution Association is comprised of attorneys, financial experts and mental health professionals with specific training in collaborative resolution of disputes. They share a powerful commitment to helping couples divorce in a respectful, dignified and psychologically healthy way. Collaborative Divorce eschews the adversarial process and instead creates a cooperative environment where communication remains open. All involved parties are supported in reaching a mutually agreed upon settlement of their disputes. Even children's voices are sought and heard so that their needs become specifically included in the process. While the dissolution of a marriage in a way that leaves all parties psychologically healthy is the primary goal, a very important aspect of the Collaborative Divorce process is that couples and families learn and use conflict resolution skills during this difficult journey and this, in turn, helps set a tone for open communication and reduced conflict in the future. www.collabdivorce-ny.com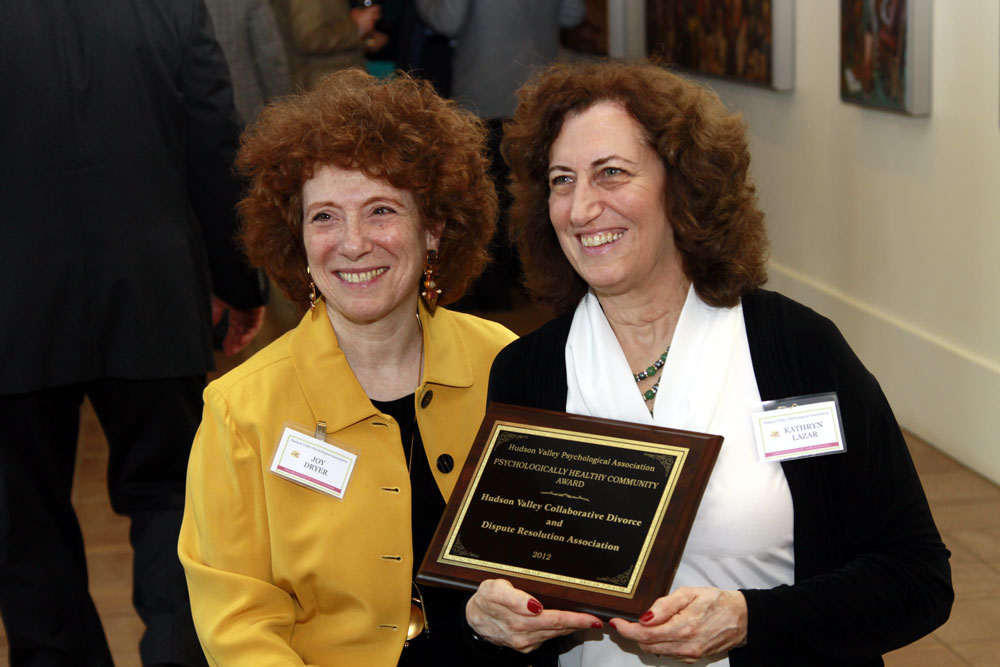 SPOTLIGHT on 2012 Winner of Single Organization Award:
Parkinson's Disease Support Group of the Mid-Hudson Valley
The Parkinson's Disease Support Group of the Mid-Hudson Valley provides support and fellowship to people with Parkinson's Disease, their families and caregivers. One caregiver commented, "Because of the Group, my husband is starting to focus on the things he can do now, and not just on what he can't do. It's changed our lives." Monthly meetings include local and national news events, speakers, exercise, sharing sessions and a social/refreshment period. Periodically special hour-long sessions are provided (caregivers in one group, people with Parkinson's in another) to share experiences, find ways to improve the quality of life, and address and diminish fears, frustrations, sadness and anger. Currently 150 members, the Support Group also publishes a monthly newsletter and maintains a lending library of books, tapes and DVD's on Parkinson's. Contact with Congressional members is ongoing regarding the need for funding Parkinson's research. www.midhudsonparkinsons.org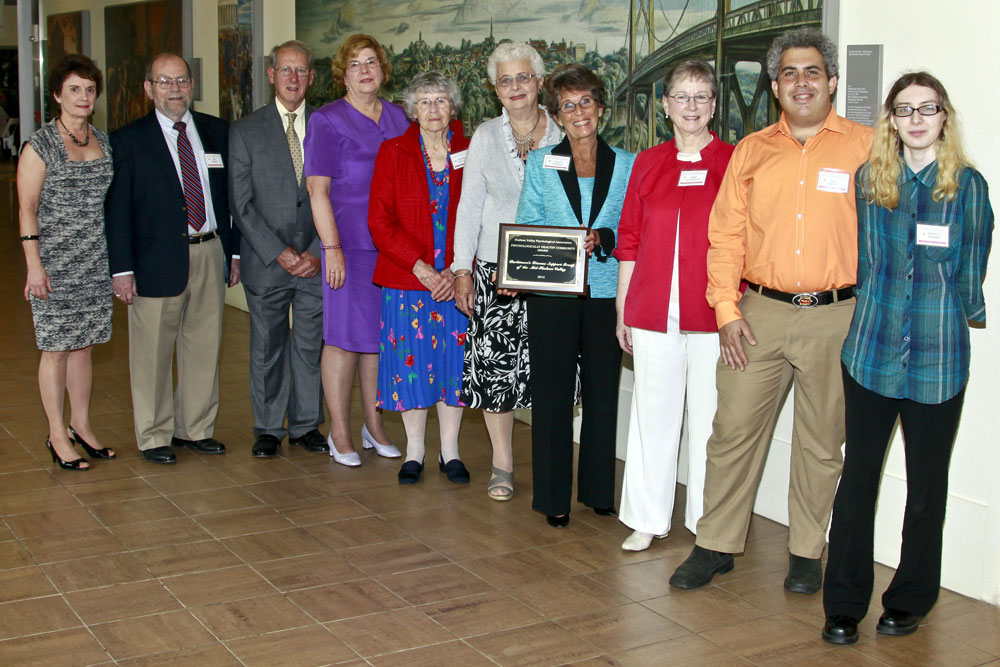 SPOTLIGHT on 2012 Winner of Collaborative Organization Award:
TEAM Newburgh
Despite headlines like "Welcome to Newburgh, Murder Capital of New York" (New York Magazine, 10/3/2011), something very good is now happening in that community. TEAM Newburgh is a grass roots, anti-drug community empowerment coalition whose members have creatively and courageously taken on responsibility for the healthy upbringing of the youth in their city. Now approximately sixty-one businesses, agencies and individuals, TEAM Newburgh's mandate is to reduce tobacco and other drug use among youth ages 12-17 and over time among adults. They have been successful in persuading businesses such as gas stations and corner stores to remove drug paraphernalia from view in order to change the cultural norm of substance use acceptance. Twice monthly TEAM Newburgh's members walk the streets targeting at-risk areas and reaching out to citizens and businesses with information and to young people with encouragement and opportunities. They also act as conduits connecting people in need of services to the agencies capable of meeting their needs. The Neighbors Helping Neighbors shop, which began as a fledgling initiative to collect donations of household furnishing to help individuals and families in need, has grown exponentially and now provides the young adults who become involved with paid training in managing a small business. TEAM Newburgh also participates in the National Night Out Against Crime, keeping soccer fields, basketball courts and the swimming pool open, and serving free hot dogs, bottles of water and chips. TEAM Newburgh recognizes the achievements of the community's young people by presenting Youth Recognition Awards annually.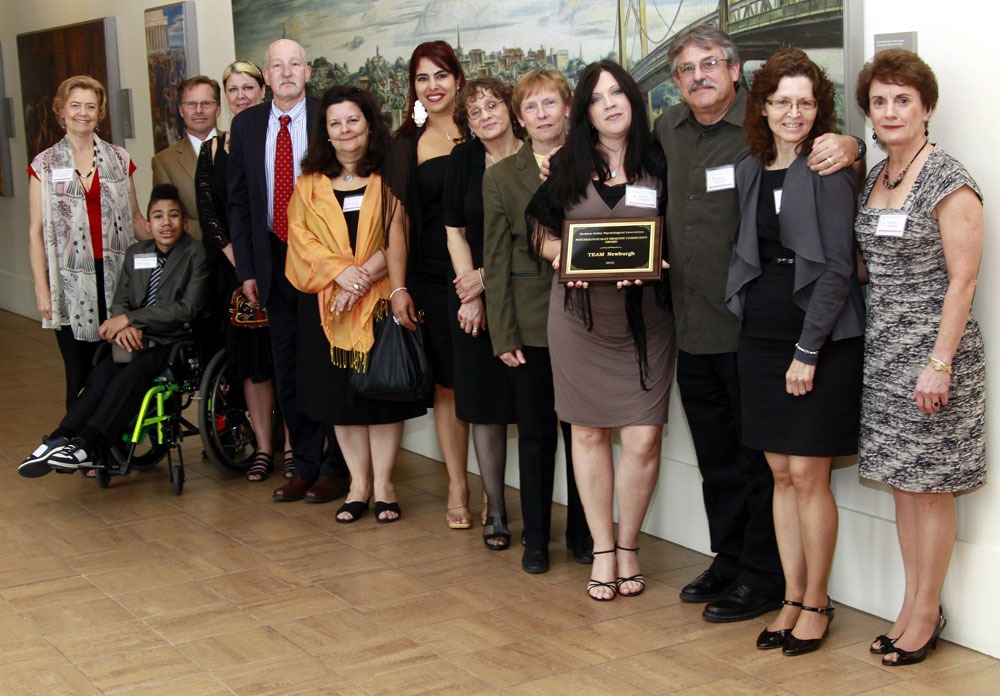 SPOTLIGHT on 2012 Winner of Trail Blazer Award:
Dutchess County District Attorney's Office
Abused children often are too afraid, too abused, or too confused to come forth and expose their abusers. In May 2011 the Dutchess County DA's Office under the leadership of District Attorney William Grady and with the support of Marjorie Smith, Bureau Chief for the Special Victims Unit, filed a pretrial petition that has become a major breakthrough in helping traumatized children to give testimony in criminal trials. The petition asked that a service dog, a specially trained Golden Retriever named Rosie, be allowed to comfort the child as she took the stand in the presence of the defendant, a family member, regarding a four-year period of extensive sexual abuse. While Rosie lay calmly by the child's feet and Senior Prosecutor Kristine Hawlk handled the questioning with warmth, sensitivity and compassion, the child was able to give effective testimony leading to conviction and a maximum jail sentence. Rosie's owners, Dale and Lu Picard, describe the courtroom work as a career change for the eleven-year-old retriever after years of working with emotionally troubled children at a residential center. Unprecedented in New York State, the collaboration between the Dutchess County District Attorney's Office and Rosie, named for the civil rights pioneer Rosa Parks, signals the end of terror and intimidation silencing child witnesses nationwide.
www.co.dutchess.ny.us/countygov/departments/districtattorney/daindex.htm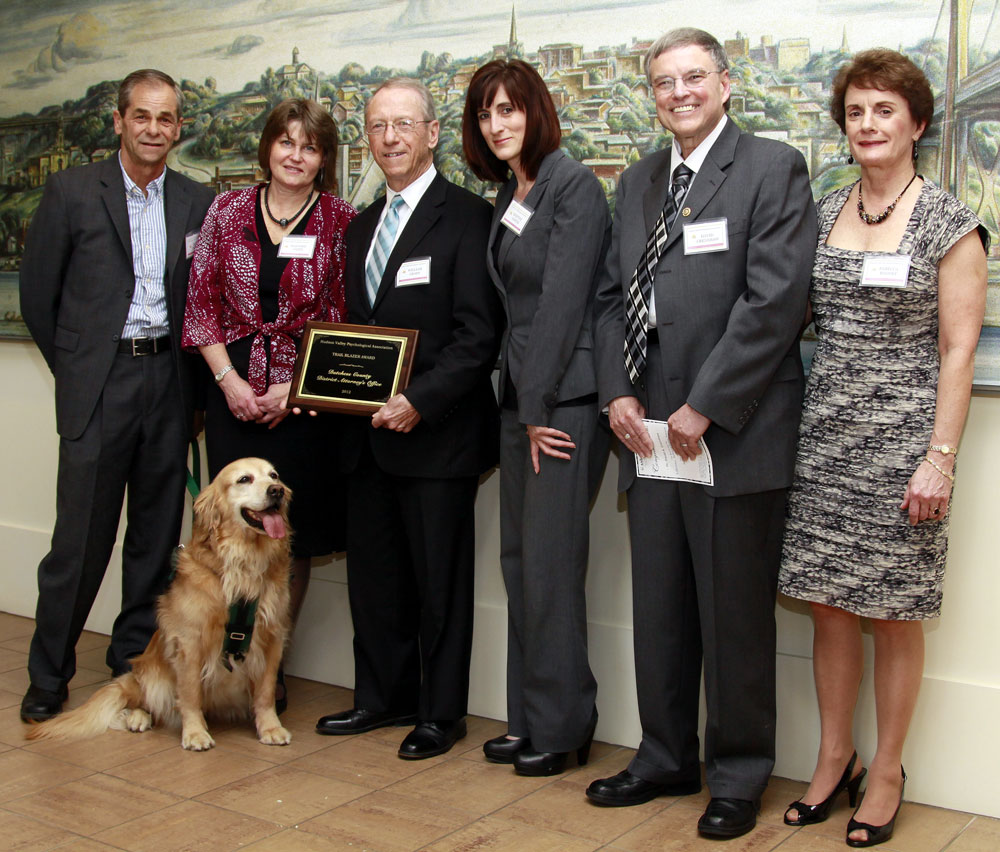 SPOTLIGHT on 2012 Winner of Lifetime Achievement Award:
David A. Crenshaw, Ph.D., ABPP
Dr. David Crenshaw has a presence that is truly one of a kind. He embodies compassionate wisdom, graceful humility, spiritual awareness and a passionate drive to alleviate suffering in the children and families he serves as a psychologist. Raised in a quiet Missouri farming community, David has a calming presence and always enough time to understand the other person's experience as best he can.
David has dedicated his professional life to bringing child after child closer to psychological health. He has served as Clinical Director in three separate residential treatment programs for children and has worked with literally thousands of at-risk kids "who've deeply touched my heart." His respectful term "Fawns in Gorilla Suits" has resonated widely, helping other clinicians better understand the aggression of children. David has lobbied for and helped achieve mental health insurance parity - Timothy's Law, named for a 12-year-old boy who hung himself - and a bill allowing child witnesses in criminal trials to testify using closed circuit TV. This past year David initiated the Courthouse Dog project in New York State allowing a service dog to be with a child witness during testimony in open criminal court.
David has also served his professional community. As Director of the Internship program at Astor from 1980 to 2001, he mentored nearly 70 doctoral-level psychology interns. He has written extensively on childhood trauma, play therapy with aggressive children, grief and bereavement in children and resilience. His published work includes 10 professional books, 32 journal articles and 29 book chapters; also two books of poetry. He is a frequent presenter at professional conferences where he is much appreciated by his colleagues for his generous and unassuming sharing of his clinical wisdom. Since 2008 David has served as a Faculty Associate at John Hopkins University. Ever innovative, he is the originator of two internet-based groups: International Colleagues in Play Therapy and International Colleagues in Family Therapy.
David continues to be a unique comforter-guide for children, especially those who have suffered unspeakable losses. At the Children's Home, the children endearingly refer to him as "Grandpa" and often consider him part of their extended family. In practice now for some 43 years, he is indeed an extraordinary clinician, mentor, teacher, supervisor, and advocate. HVPA is proud to have him as a member. www.rhinebeckcfc.com