HVPA Presents - "Somatic Tools for Psychotherapists"
Presented by Shideh Lennon, Ph.D., SEP
Date: Sunday, October 1, 2023
Time:
12:40 p.m. - 12:55 p.m. - HVPA update meeting
1:00 p.m. - 4:00 p.m. - Dr. Lennon's CE Course
Location: This will be a Zoom presentation. (You will receive the Zoom login information following your registration.
Program Summary
This workshop will focus on practical tools to integrate somatic techniques into talk therapy to promote greater nervous system regulation for both client and therapist, and to increase the effectiveness of the work by promoting a greater capacity for embodiment. We will go over some basic and easy to digest nervous system functions and how they promote either regulation or dysregulation. We will discuss ways to increase awareness of the body in ourselves and our clients through the use of languaging and simple somatic interventions. We will use experiential exercises for participants to get a felt sense of these experiences in their own bodies. We will go over various regulation techniques that can be used on the spot and easily taught to clients.
Presenter: Shideh Lennon, Ph.D., SEP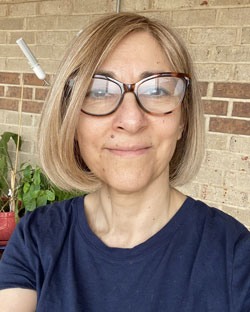 Shideh Lennon has been practicing psychotherapy since 1998. Originally trained in psychodynamic and relational psychotherapy, she now integrates Somatic Experiencing into her work. The focus of her work is on promoting embodied resilience by supporting the nervous system to release long held trauma and allowing the body and mind's natural healing resilience to manifest. Dr. Lennon's specialties include complex trauma, developmental trauma, syndromes such as chronic pain, IBS, and autoimmune disorders. The embodiment of emotions is central to Dr. Lennon's work as well.
Dr. Lennon is currently faculty at Somatic Experiencing International where she has been teaching SE nationally and internationally. She also teaches workshops on embodied resilience for psychotherapists and non-therapists alike. Dr. Lennon's more than 20 years of experience in Zen and mindfulness mediation creates a container of warmth, compassion, and spaciousness to her work.
Target Audience: All mental health professionals. NOTE: Only Doctoral Level NY State licensed Psychologists can receive CE credits.
Learning Objectives
Participants will demonstrate learning by identifying 3 ways in which the Autonomic Nervous System contributes to client regulation and dysregulation.
Participants will be able to name 3 ways in which to track for client regulation and dysregulation respectively.
Participants will describe 4 techniques used to help regulate clients' nervous systems.
Participants will list 4 ways in which they can integrate somatic techniques into their work through the use of language and somatically based interventions.
FEES:
FREE for HVPA Members
$60.00 for Non-HVPA Members
JOIN HVPA for an annual $50 fee and receive all CE courses provided by HVPA for FREE. For networking, listserv, and other benefits, please go to the Membership page and sign up!
CE INFORMATION
Statement of Sponsorship: Hudson Valley Psychological Association (HVPA) is recognized by the New York State Education Department's State Board for Psychology as an approved provider of continuing education for licensed psychologists #PSY-0200.
CE Credits: 3 CE credits for NYS Psychologists (only) are provided upon course's completion. HVPA is authorized to provide CE credits ONLY to NYS Psychologists.
To receive continuing education (CE) credit, you need to attend the program in its entirety. CE certificates will be provided for all NYS psychologists who attend this program in full and who complete/return an online post-test and online program evaluation. Please indicate your license type and license number on your registration form.
FOR ONLINE COURSES: We verify your online attendance at the beginning & end of the program and by your completion of the evaluation form and post-test.
HVPA is authorized to provide CE credits ONLY to NYS Psychologists. If you have questions, contact ContinuingEd@hvpa.org.